Bring the potential of ROZLYTREK® to life

ROZLYTREK is well tolerated and has a manageable and consistent safety profile in both adult and paediatric patients1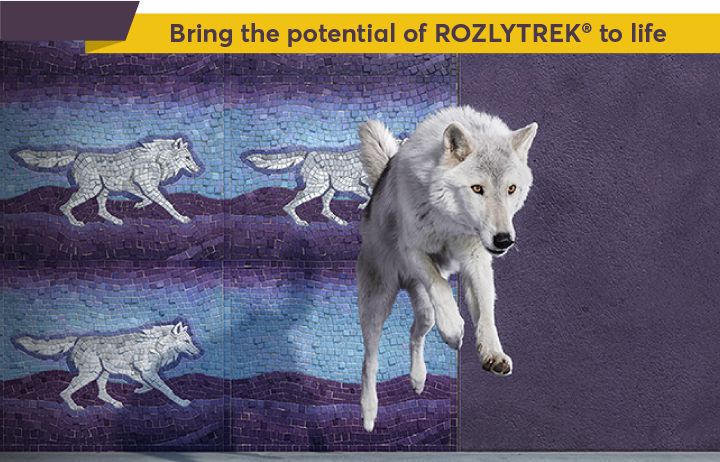 ROZLYTREK is well tolerated and has a manageable and consistent safety profile in both adult and paediatric patients1

ROZLYTREK safety was evaluated in 504 adults and paediatric patients across multiple biomarkers and tumour types as an integrated analysis of four clinical trials: ALKA-372-001. STARTRK-1, STARTRK-2 and STARTRK-NG1
ROZLYTREK safety summary
ROZLYTREK was well tolerated in clinical trials2
Most adverse events were of Grade 1 or 2

27.0% of patients required dose interruption due to TRAEs
24.6% of patients required dose reduction due to TRAEs
Permanent discontinuation of ROZLYTREK due to a TRAE occurred in 4.6% of patients
Treatment compliance is considered acceptable, with a median dose intensity as high as 96.5%3
The majority of adverse reactions were manageable2

ROZLYTREK adverse reactions

Adverse reactions were generally mild or moderate1,2

In 504 patients across 4 trials
Monitoring
Monitoring considerations with ROZLYTREK1

Patients receiving ROZLYTREK should be carefully monitored for clinical signs and symptoms of congestive heart failure, including shortness of breath or oedema

ROZLYTREK should be avoided in patients with congenital long QTc syndrome and in patients taking medications that are known to prolong QTc interval:

Baseline and periodic monitoring of electrocardiograms and electrolytes is recommended

Patients should be monitored for signs of cognitive changes



This medicinal product is subject to additional monitoring. This will allow quick identification of new safety information. Healthcare professionals are asked to report any suspected adverse reactions. See section 4.8 of the SmPC for details on how to report adverse reactions.

Footnotes
ALT, alanine aminotransferase; AST, aspartate aminotransferase; QT, time from the start of the Q wave to the end of the T wave; QTc, the corrected QT interval; TRAE, treatment-related adverse event.
References
ROZLYTREK Summary of Product Characteristics, 2020.
Patel M, et al. Ann Oncol 2020;31(Suppl 3):232–233.
European Medicines Agency CHMP assessment report for ROZLYTREK. Available at: https://www.ema.europa.eu/en/medicines/human/EPAR/rozlytrek (Accessed December 2020).