Bring the potential of ROZLYTREK® to life

ROZLYTREK:
A potent ROS1 and TRK inhibitor1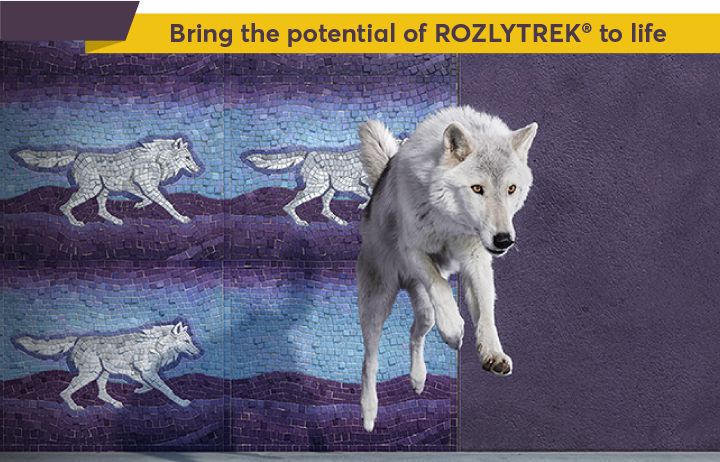 ROZLYTREK: A potent ROS1 and TRK inhibitor1
ROZYLTREK is a selective tyrosine kinase inhibitor used to treat ROS1+ NSCLC and NTRK fusion+ solid tumours1
ROZLYTREK demonstrates antitumour activity within the CNS1
It has shown efficacy in ROS1+ NSCLC and NTRK fusion+ solid tumours clinical trials1
Introduction to ROZLYTREK
A selective tyrosine kinase inhibitor that targets
TRK and ROS1 fusion proteins
ROZLYTREK indications1
ROZLYTREK as monotherapy is indicated for the treatment of adult and paediatric patients 12 years of age and older, with solid tumours, expressing a NTRK gene fusion, 
who have a disease that is locally advanced, metastatic or where surgical resection is likely to result in severe morbidity, and

who have not received a prior NTRK inhibitor,

who have no satisfactory treatment options.
ROZLYTREK as monotherapy is indicated for the treatment of adult patients with ROS1-positive, advanced NSCLC not previously treated with ROS1 inhibitors.
Mode of action and CNS activity
ROZLYTREK blocks all subtypes of TRK (TRKA, TRKB and TRKC) and ROS1 tyrosine kinases1,2
ROZLYTREK inhibits TRK and ROS1 kinases, preventing the hyperactivation of downstream signalling pathways that lead to unconstrained cell proliferation1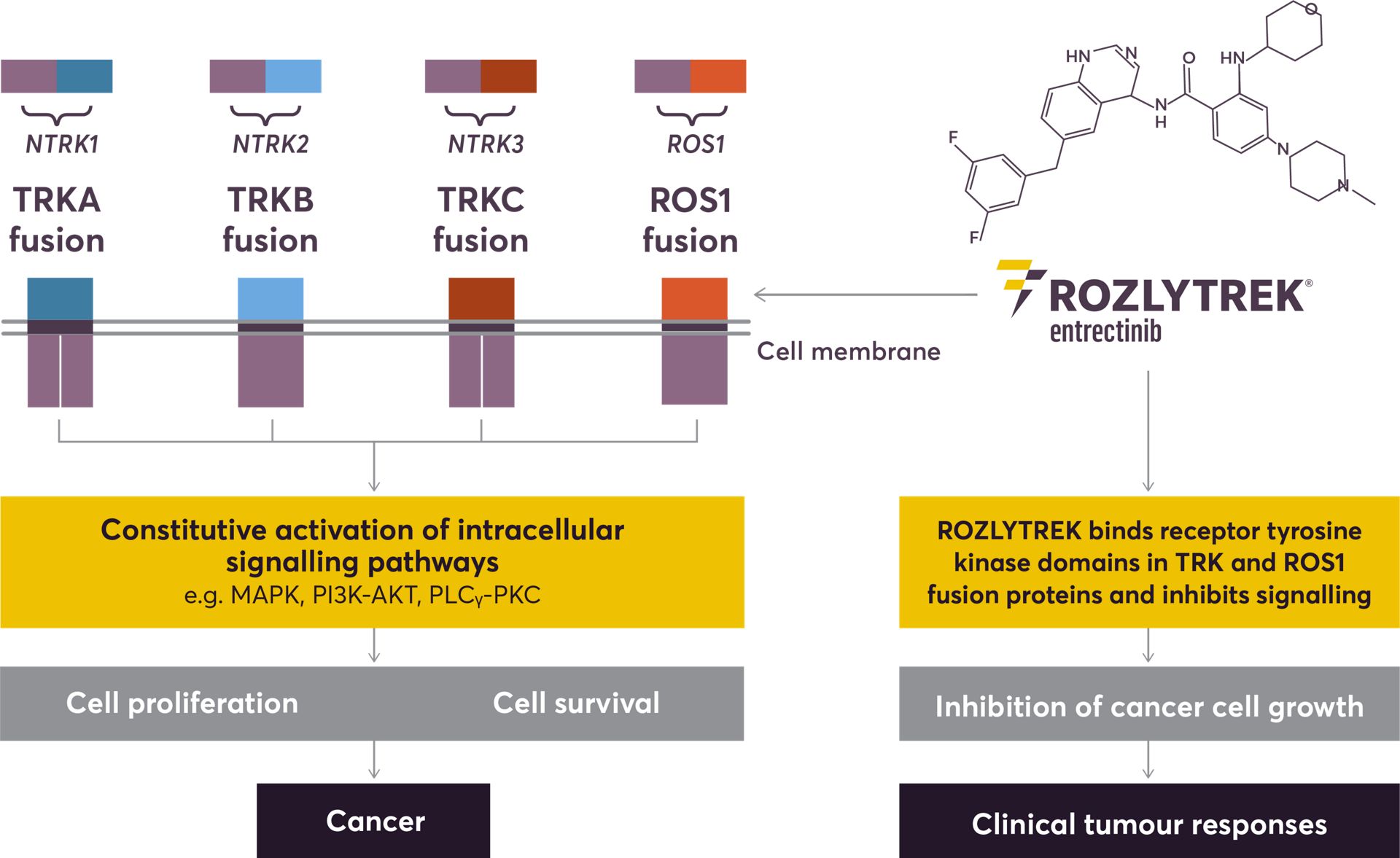 A potent, selective TRK and ROS1 inhibitor, demonstrating antitumour activity within the CNS1
Systemic drugs must cross the blood-brain barrier, and remain in the CNS to be effective there3–6
ROZLYTREK is a weak substrate of P-glycoprotein and therefore is able to achieve clinically meaningful concentrations in the CNS1,7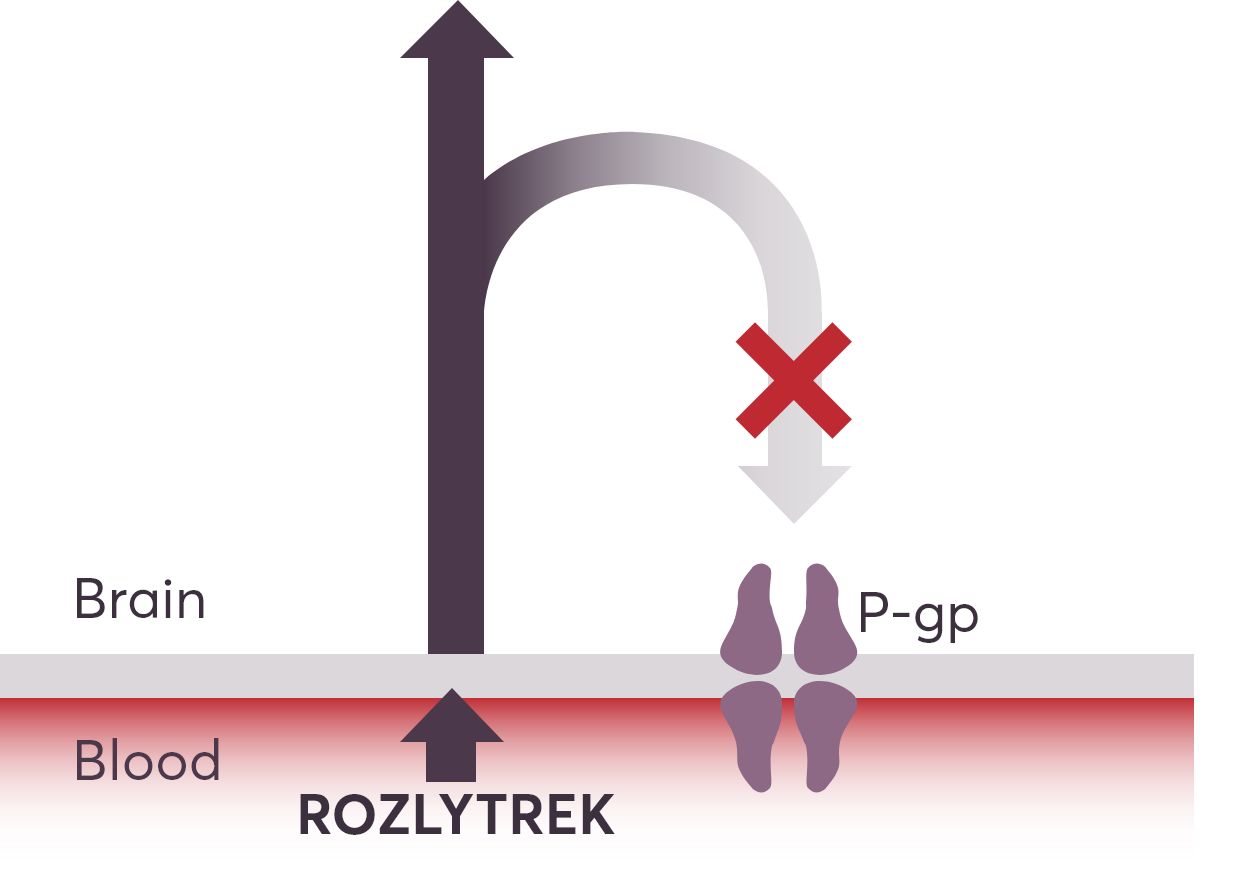 CNS metastases are associated with significant morbidity and poor survival8
The most common primary tumour sites for CNS metastases are:9


Lung

Breast (the most common cause of brain metastases in women)

Skin

Kidney

Gastrointestinal tract

In ROS1+ advanced NSCLC, up to 40% of patients have CNS metastases at diagnosis10

A retrospective analysis found that approximately half of lung cancer patients with CNS metastases were asymptomatic for CNS disease11
For 47% of patients with ROS1+ advanced NSCLC receiving crizotinib, the CNS is the first and only site of progression10


NTRK fusion-positive cancers are histologic types with significant rates of brain metastasis, commonly seen in NSCLC and melanoma12

NTRK fusions are now considered an important molecular marker in patients with CNS metastases13
The activity of TRK inhibitors in the CNS can enable significant improvement of patients' outcome by specific targeting13
This medicinal product is subject to additional monitoring. This will allow quick identification of new safety information. Healthcare professionals are asked to report any suspected adverse reactions. See section 4.8 of the SmPC for details on how to report adverse reactions.
Footnotes
CNS, central nervous system; MAPK, mitogen-activated protein kinase; P13K-AKT,phosphatidylinositol 3-kinase-protein kinase B; NTRK, neurotrophic tyrosine receptor kinase; NSCLC, non-small cell lung cancer; PLC(gamma)-PKC, phospholipase C-protein kinase C; P-gp, permeability-glycoprotein; ROS1, c-ros oncogene 1; TRK, tyrosine receptor kinase.
References
ROZLYTREK Summary of Product Characteristics, 2020.
Lin J et al. J Thorac Oncol 2017;12(11):1611–1625.
Deeken JF, et al. Cancer Res 2007;13:1663–1674.
Lorio AL, et al. Anticancer Agents Med Chem 2016;16:810–815.
Misra A, et al. J Pharm Pharmaceut Sci 2003;6:252–273.
Levin VA, et al. Neuro Oncol 2015;17 Suppl 6:vi1–vi26.
Fischer H, et al. Neuro Oncol 2020;22:819–829.
Chi A, et al. Cancers (Basel) 2010;2:2100–2137.
Fox BD, et al. Neurosurg Clin N Am 2011;22:1–6.
Patil T, et al. J Thorac Oncol 2018;13:1717–1726.
Jena A, et al. J Thorac Oncol 2008;3:140–144.
Drilon, et al. UpToDate, edited by Ted. W. Post, published by UpToDate in Waltham, MA. 2021 (accessed January 2021).
Gambella A, et al. Int J Mol Sci 2020;21(3):753.